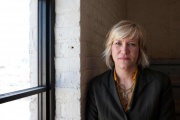 MEMPHIS -- Nationally recognized entrepreneurial and business development leader Leslie Lynn Smith has been selected as president of the Entrepreneurship-Powered Innovation Center (EPIcenter), a collaborative and community-wide strategic initiative led by Memphis Bioworks that is helping entrepreneurs conceive, launch and scale businesses in the Memphis region. In addition to her leadership at EPIcenter, Smith will serve as a vice president on the Memphis Bioworks executive team.
Smith comes to EPIcenter following five years of successful entrepreneurial leadership as president and CEO of TechTown Detroit. As the city's most established business accelerator and incubator, TechTown provides a powerful connection to a broad network of resources, catalyzing entire communities of entrepreneurs best poised to energize the local economy. At TechTown, Smith led the transformation of Detroit's economy with innovative business modeling and cutting-edge economic development programs. In her role as president and CEO, she stabilized and scaled enterprise activities with new program design, provocative partnership models and a hub-and-spoke catalyst framework, at the center of which sits TechTown. Previously, she was director of business acceleration for the Michigan Economic Development Corp., overseeing the state's $300 million investment portfolio.
"After a nationwide search, it was clear to us that Leslie had the talent, the experience and the leadership that we need here in Memphis to make EPIcenter a success and the Chairman's Circle vision for entrepreneurial growth a reality," said Steve Bares, PhD, president and executive director of Memphis Bioworks. "At TechTown, with more than 40 collaborators working together in the ecosystem, Leslie has proven that the model of a central organization charged with connecting, catalyzing and then supplementing a community's entrepreneurial and business development assets can generate remarkable results. That is the kind of model we will emulate at EPIcenter, where every idea and every entrepreneur has a resource to which EPIcenter can direct them for the help and support needed, whether that's investors, mentoring, networking, education or space."
"I am passionate about American cities and the power of entrepreneurism as a catalyst for growth," said Smith. "I am proud of what we have accomplished in Detroit and extremely enthusiastic about the potential for Memphis. Much like we had in Detroit when we began our entrepreneurial renaissance, Memphis has untapped opportunity, energy and a variety of successful programs. I'm particularly impressed with the level of private sector engagement in Memphis, and in the city's embrace of its existing category strengths as a foundation for growth. I could not turn down this opportunity to become a part of an organization that is accountable for building a national model for a successful integrated entrepreneurial ecosystem that has real community impact."
The Greater Memphis Chamber's Chairman's Circle is a group of more than 100 business leaders who have committed to making Memphis great through five goals, or "moon missions," each of which is a strategic vision for bringing about transformational change in Memphis. EPIcenter was created and proposed by Memphis Bioworks in response to the entrepreneurship "moon mission," with a goal to enable 1,000 entrepreneurs by starting 500 companies in Memphis by 2024, resulting in regional economic growth and jobs. The Chairman's Circle benchmarked Memphis with other successful communities and determined that achieving this next level of success requires a concerted effort to organize all the organizations that serve startups and small businesses around a common strategy.
"Leslie brings a lot of passion, energy and leadership experience to Memphis. She is exactly the person we needed to help make the EPIcenter a success," said Spence Wilson, Jr., Principal at Kemmons Wilson Companies and Chairman's Circle Co-Chair. "The collaborative process she employed at Detroit's TechTown is precisely what the Chairman's Circle envisioned for Memphis."
EPIcenter helps entrepreneurs and supporters by providing a single point of access into the ecosystem. While EPIcenter won't be one physical location, it is a designation as a first stop for entrepreneurs, corporations and others to either access resources or obtain support. EPIcenter will assist any entrepreneur starting a business, but will focus on Memphis' existing economic strengths: logistics and emerging technologies, healthcare and bioscience, as well as the information and software technology that enables those sectors. For these areas, the EPIcenter will work directly with companies through existing accelerator, capital and incubator programs, such as Emerge Memphis, Start Co., Memphis Bioworks, and Innova, and work in conjunction with the Economic Development Growth Engine (EDGE) and the Brookings Regional Economic Development plan. The EPIcenter will also launch new programs to support needs and partner with other entities to support companies outside of these areas.
# # #
About EPIcenter
EPIcenter serves as a central point of contact for the region's ecosystem and coordinates resources from various organizations in the community such as accelerators, incubators, mentors, investors, networking programs, and technical assistance programs for entrepreneurs. EPIcenter also represents the complete picture of the region's entrepreneurial activity and resources in high-growth, scalable startups and businesses. The Greater Memphis Chamber's Chairman's Circle has tapped Memphis Bioworks to lead the efforts and objectives of EPIcenter, in collaboration with Emerge Memphis, Start Co., and other partners, to pursue a common goal of creating a robust and vibrant entrepreneurial ecosystem in Memphis to service the Mid-South region. For more information, visit epimemphis.com.
About Memphis Bioworks Foundation
Memphis Bioworks is the Mid-South's go-to organization for creating companies, jobs and investments in bioscience and sustainability. A visionary community leader, Memphis Bioworks has a well-established record of sparking new levels of economic vitality by investing in entrepreneurs, building state-of-the-art labs and facilities, and training the next generation of workers. For more information, visit memphisbioworks.org, Facebook at facebook.com/MemphisBioworks or follow @MemphisBioworks on Twitter.
About the Chairman's Circle
The Chairman's Circle is a leadership body created to engage Memphis business leaders on a variety of issues that affect Memphis and the Mid-South. The group's intention is to cause transformational change through leadership working closely with civic partners and public officials.
About the Greater Memphis Chamber
The Greater Memphis Chamber is the lead economic development agency for Memphis/Shelby County, and is a private, non-profit, membership-driven organization comprised of 2,500 business enterprises, civic organizations, educational institutions and individuals.