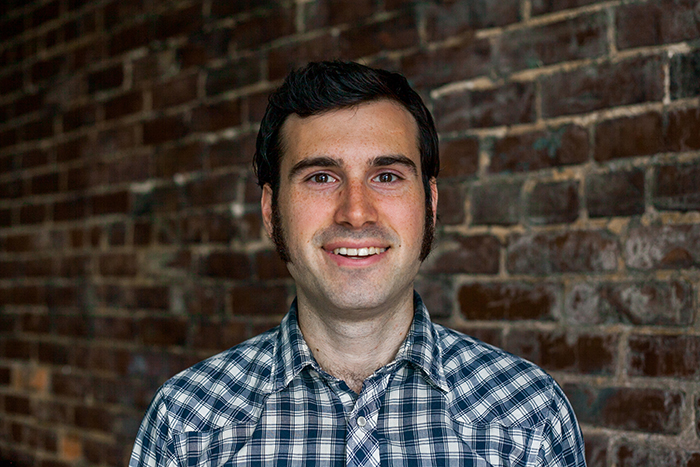 GET STARTED LLC, the Chattanooga company that provides CO.STARTERS™ educational content and services for weaving solid communities and outfitting entrepreneurs for their treks, may soon reach beyond the U.S. and New Zealand to other geographies.
The for-profit company was registered in January 2016 by Enoch Elwell and fellow co-founders Rebekah Marr and Will Joseph, who are respectively program director and COO.
Elwell is the serial entrepreneur who previously co-founded with fellow entrepreneur Sheldon Grizzle the nonprofit CoLab, aka The Company Lab for startups in Chattanooga. CoLab was a successor to the earlier CreateHere venture in Chattanooga.
A bootstrapper at heart, Elwell said Get Started is nonetheless considering both organic and inorganic growth-funding options, as well as revision of its corporate form, creation of a formal advisory board and other issues and opportunities. Any investors accepted would be people or institutions that share the founders' values, he said. (A second Elwell-driven startup that is likely to raise capital is identified later this in this story.)
His advisors currently include attorneys with Chambliss Bahner, accountants Henderson Hutcherson McCullough (HHM), benefits advisors CBIZ, bankers with Synovus-Cohutta, and research and strategy advisor Visionario, which is led by Liza Soydan, an affiliate of Clarus Consulting Group. It receives techdev support from locally based Brett Wise.
At the center of Get Started's current business is its 9-week CO.STARTERS program for new, pivoting or recharging businesses. A layer of community-building consulting services is wrapped-around CO.STARTERS. The licensing process is here.
Get Started's CO.STARTERS and its overall portfolio seem likely to continue evolving.
However, one element that does not presently seem likely to change is the company's view of the crucial relationships that exist among community and human development and spawning new enterprises that produce goods and services and transform communities in uplifting ways.
The company declares it is "The starting point for a startup community," and it has some firm market-entry parameters.
For example, before licensing, CO.STARTERS team members visit interested communities, conducting interviews to see whether or not "the market is philosophically aligned with us."
In putting together each local coalition, the company identifies and enlists members of "a core subgroup" of the community who have demonstrated their concern for bettering their community and its residents. Those members must also have a "legitimate" business background and possess demonstrable skill in facilitating interactions among community members, helping them come together around their "shared vision" of community improvement.
He's learned a lot implementing CO.STARTERS: For instance, he said, "We actually have found that we see more success in communities that have been experiencing a lot of frustration for a long time," said Elwell.
Moreover, said Elwell, "rather than rallying around" a community member who might be widely viewed as "a rockstar jerk," Elwell said he and his team scout for "the ideal community leader who is marked by humility, being hopeful and helpful, ready to express their kindness and to care deeply about about improving their hometown.
"One of my favorite things is meeting people who have earned the right to be a jerk, but who aren't," he added.
He also emphasized that CO.STARTERS' community-building process is not for those who simply want to sift through their community's talent base to identify "the small segment of the community that's deemed 'most likely to succeed'... Rather, we help everyone, connecting all who are willing to a solid community of support."
The CO.STARTERS program is being used at more than 80 sites in the U.S. and in New Zealand. That faraway market opened to CO.STARTERS after New Zealanders in 2014 visited Chattanooga to explore the city's EPB Gig-powered ecosystem and NZ communities began to sign-up.
Elwell noted CO.STARTERS has a key NZ partner in broadband provider Chorus (NZX:CNU), a relationship that promises to expand further.
"We're kind of hashing-out our model for expansion in New Zealand before we scale," he said, noting that the company is in advanced discussions with potential client-subscribers in Australia, Lebanon and several other nations.
The ranks of Tennessee communities using CO.STARTERS are growing. This is partly because Elwell's company is vendor participant of the Launch Tennessee Creative Communities program. Licensee EPIcenter in Memphis, for example, is a licensee currently hosting several CO.STARTERS sites, said Elwell.
Elwell noted that as LaunchTN has changed its funding model for the state's regional accelerators, CO.STARTERS has been among "core offerings" for the Creative Communities program.
Also, Launch Chattanooga, led by Hal Bowling, is also among CO.STARTERS licensees and is exporting it to Nashville and other cities. Its Nashville partner is Corner to Corner, a Christian nonprofit.
Though not a CoLab co-founder, LaunchTN CEO Charlie Brock was the first executive director of CoLab, said Elwell. CO.STARTERS has also gained clients via the Tennessee Main Street programs of Tennessee Department of Economic and Community Development, the state agency that sponsors LaunchTN.
Elwell said the company has 8 core team members (half of them full-time), plus 10 trainers and, so far, at least 300 active community facilitators.
Elwell said that while a number of business strategy canvases and lean-startup models could be viewed as competitive with CO.STARTERS -- he notes GrowthWheel and Kauffman Foundation's Fastrac -- CO.STARTERS is more about helping locals engage and shape their communities, using whatever tools are appropriate.
While in some other approaches the overarching goal is typically to identify and advance investable businesses, CO.STARTERS is used to support passionate people ready to help their communities, which, in turn, can lead to more resilient, inclusive and prosperous communities.
By learning to think entrepreneurially and to deal successfully with financial matters, individual community members make their dreams and pursuits sustainable, and add to the well-being of others, he added.
He added that many organizations -- incuding the Kauffman Foundation and the International Business Innovation Association (fka National Business Incubation Association) -- are among groups pursuing similar ideas.
When asked by VTC, Elwell readily acknowledged that his having attended Covenant College in Chattanooga -- where community engagement and service are fostered among faculty and students as core values -- reinforced his interest in these matters. See our previous story on Covenant here.
With Andrew Alms, Elwell is also cofounder of Sleep in a Tree LLC (dba Treetop Hideaways) established at Flintstone, Ga., and now offering one (and soon a second) rental via Airbnb.
In that endeavor, Elwell said the company will soon formally announce a partnership through which they will feature in a new treehouse the Men+Care Elements line of Unilever's Dove-branded products "inspired by nature." Pete Nelson, host of Animal Planet's Treehouse Masters, is also involved in the partnership.
Elwell said that he and Alms are very likely to consider raising capital for Sleep in a Tree, after they've done their diligence regarding scaleup requirements.
Filling-in his entrepreneurial background, Elwell noted that, in addition to support from Grizzle in launching CO.STARTERS, CreateHere co-founders Josh McManus and Helen Johnson were "instrumental in the beginning of what is now CO.STARTERS." McManus and Johnson are now with Detroit-based Rock Ventures, which supports the large business portfolio of Cleveland Cavaliers Majority Owner Dan Gilbert.
Elwell has long been a luthier craftsman as well as an entrepreneur, according to his Linkedin. He and his wife have one child and another on the way.
Now 30, he is a native of Woodtown, N.J., located amid the rural farmlands of southern New Jersey. VTC
. last edited and corrected 2:05pm CDST 11 April 2017
---