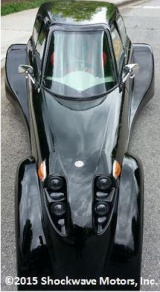 SHOCKWAVE MOTORS is preparing to raise $1.5MM Seed capital for pre-production manufacturing of five of its three-wheel electric-powered Defiant roadsters.
The startup company is based an hour's drive east of Knoxville in Russellville, and it has been showing-off its pre-money prototype for about a year, said vehicle Designer John McMillian.
McMillian co-founded the business with Normand Rheault, a former human-resources and management consultant.
The three-seat Defiant is designed to drive 80 to 100 miles between 110v/120v rechargings of eight to ten hours each for its planned China Aviation Lithium Battery (CALB ion phosphate).
The delta-shaped Defiant's top-end is 75 mph. With passenger rollbar and removable roof it weighs-in at about 1,500 pounds, and it will sell for nearly $25,000 each.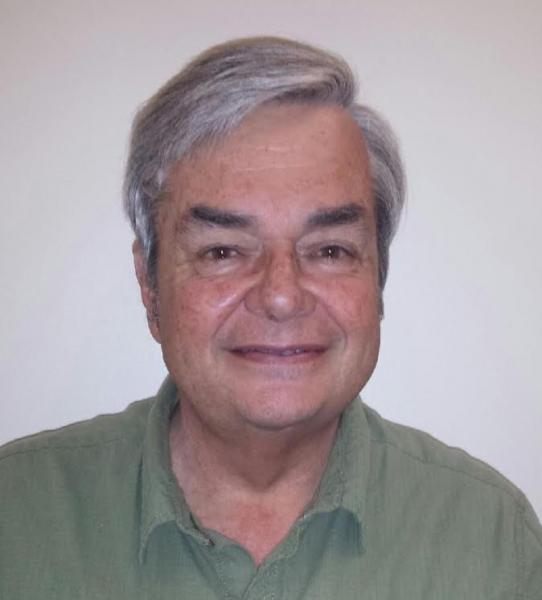 John McMillian
Shockwave's preference is to sell about a third of its equity to an as-yet unidentified investor with sector savvy, said 61-year-old McMillian. The owners have had early conversations with some potential investors.
The company is considering tapping an advisor to handle its Seed raise.
Ahead of their planned Seed raise, the co-founders determined their company's pre-money valuation via an online valuation calculator maintained by Cayenne Consulting (Orange County, Calif.), McMillian said.

N. Rheault
Thus far, the founders have put about $350K into their company, said McMillian.
McMillian had put together electric-powered vehicles as a hobby since his youth, before beginning to explore possible commercial designs. He said it was his friend, Canada-born Rheault, who in 2006 first advocated producing a vehicle for the market.
McMillian said the company can produce its first five fully equipped vehicles within 10 months of accepting investment, and would probably produce "500 Defiants within its first full year of production."
After those five units are produced, the owners will consider a Series A round.
The owners believe that within five to six years, Shockwave production can reach 10,000 vehicles per year -- at $25K each -- via multiple assembly plants. Color and some other customization services are to be available. And, a four-seat model may eventually be offered.
Its main factory in Tennessee and future regional factories elsewhere in the U.S. are being designed to produce 800 vehicles, annually. Though some components in Shockwave roadsters are to be imported, fiberglass or composite skins, chassis and other parts will be made in Tennessee, with set assembly in Shockwave's U.S. factories.
Potential Shockwave three-wheel competitors include Phoenix-based Elio Motors, which recently adjusted plans to debut a gasoline-powered vehicle by mid-2016; and, Minnesota-based Polaris Industries, which emphasizes the speed attainable in its gasoline-fed Slingshot.

Asked about current advisors, McMillian said the company relies on Crossville attorney Jack Atkins; and, through SunTrust it has arranged for consumer financing of Shockwave vehicle purchases.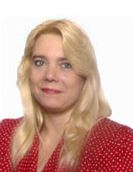 Carrie Fair
PR is handled in-house by Carrie Fair. McMillian said the company is likely within the next 12 months to select both an accountant and a Web-development agency.
Tennessee native McMillian attended the University of Tennessee, where he earned a bachelor's in Transportation and an MBA, focused on Transportation. McMillian is employed with Keurig Green Mountain, the beverage and brewing products company.
Earlier, he served eight years in the U.S. Air Force, including a tour as a Titan II missile crew commander. VTC