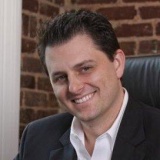 HUBBLE TELEMEDICAL'S sale to medical diagnostic equipment giant Welch Allyn seems to have given the three-year-old start-up and its investors something to smile about.
The West Knoxville-based start-up had not been seeking a buyer, but was approached by Welch Allyn in 2014, said Chuck Witkowski, formerly Hubble Telemedical CEO and now director of Welch Allyn's new Tele-Retinal imaging solutions division.
The acquisition provided an early exit for Hubble investors, including Memphis Biomed Ventures Tennessee I, a TNInvestco fund affiliated with MB Venture Partners, based in Memphis. Terms of the deal were not disclosed.
Noteworthy as the statewide TNInvestco program's capital nears exhaustion, the Hubble transaction represents the first exit of a TNInvestco-based company for the Memphis-based fund, which helped launch Hubble in 2011 with $500,000 in its TNInvestco's funds. Other recent sales of Tennessee startups that had attracted TNInvestco funds included Nashville's Change Healthcare, which sold to Nashville-based Emdeon for about $135MM.
The MBVP-linked TNInvestco invested $1.2 million in Hubble, and an undisclosed group of Angel investors participated in the company's final capital raise.
A LaunchTN spokeswoman correctly noted following publication of this story that Hubble had also received $75K from the State's INCITE investment-matching fund.
Since inception, Hubble has been building its business around a remote telemedicine product that allows primary care physicians to offer retinopathy screenings to diabetic patients as part of their routine physical exams.
Just six weeks ago, Welch Allyn announced its similar acquisition of HealthInterlink of Omaha, which had five employees and had been owned by Prairie Ventures. Terms were not disclosed, and the buyer said at the time that the target's employees would continue in their current roles through a transition period, with longer-term plans undisclosed.
The Hubble office and staff will remain in Knoxville, Witkowski said. Hubble has fewer than 10 employees, plus a network of contracted, licensed physicians who perform the company's diagnostic work. He said the company will add employees as a result of the deal, with the net increase yet to be determined.
Skaneateles, N.Y.-based Welch Allyn has more than 2,600 employees and is family-owned, and was founded in 1915. It makes a range of medical supplies and equipment -- from blood pressure cuffs to office lighting, for the primary care market.
The parent's internationally established brand, development resources, as well as its sales, support and distribution network make it an attractive partner, said Witkowski.

"We certainly were thinking about raising additional funds -- we had access to additional funds," Witkowski said. "But, really the thing that's hard to capitalize for a small company is the distribution channel. It would be practically impossible for us to raise enough capital to replicate the distribute the distribution channels that they have. Plus the brand. Welch Allyn is truly one of the most trusted brands in health care globally."
The software management system that allows the company to remotely conduct eye exams and transmit them to physicians for reading was developed by Edward Chaum at the University of Tennessee Health Science Center in Memphis. A second software system that will automate the diagnostic process was developed at Oak Ridge National Laboratory by Ken Tobin, said Witkowski. This platform is still in development and must undergo regulatory approval before launch.
Making eye exams available in a primary-care office helps increase the share of diabetic patients in a practice who receive recommended annual eye exams from 30 percent to about 75 percent within six months of implementing the service, Witkowski said.

Mike Sherman
"Three years is fast, there's no question about it, and in today's environment it's notably quick," said Mike Sherman, who as MB Venture Partners partner and member of Hubble's board of directors oversaw the company's genesis.
Sherman declined to identify other Hubble equity-holders, acknowledging only that some Angels were also ultimately involved. [VTC editors originally attributed this statement incorrectly to Witkowski.]
The investment in Hubble was a departure for MB Venture Partners, which has long focused on start-ups in the musculoskeletal space. Sherman said the TNInvestco requirement to invest in Tennessee companies meant MB Venture Partners was obliged to expand its reach.
"Up until this point we really didn't invest in software and medical services," he said. "The TNInvestco fund has given us the opportunity to broaden the type of investments we're doing."
Hubble is the second medical-technology start-up for 39-year-old Witkowski. He launched the first, Protein Discovery, in 2001 around technology that uses mass spectrometry to analyze biological samples for customers in medical and pharmaceutical markets. The company was bought in 2011 by Expedeon, a British firm.
"Protein Discovery was a different kind of business," he said. "It was a life science research product company. By virtue of that fact, those companies tend to spend a lot more time in the R&D space -- and a lot more capital."
After he left, going to work for MB Venture Partners as an entrepreneur-in-residence, Witkowski looked for an opportunity that would keep him in the medical technology space, but offer a quicker path to market. With Hubble, the funding was there, the technology platforms were ready to go and the company was built around a service, rather than a product.
"What I wanted to do was interact with the market quickly," he said, noting that with Hubble his team was "able to get to market a year after launching."
"This is an example of a medical researcher in West Tennessee and an ORNL researcher in East Tennessee (inventing a product that) ultimately attracted a blue chip leading company to seek acquisition," said Sherman, adding, "It speaks well for the state." VTC
VTC E&P Milt Capps contributed research to this story.

---