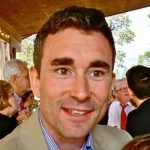 BRETT NORMAN, the farm-bred founder-CEO of AgSmarts in Memphis, thinks conditions may be right for a $2MM-$5MM Series A raise this fall.
Norman, 39, told Venture Tennessee he senses a sharp rise in investor interest in data-driven precision agriculture, generally, and particularly for AgSmarts' type of intelligent irrigation systems technologies.
"Six months ago, this was not the case, at all," he said, but now in the U.S. "the Ag space is looking for any and all solutions they can find to address the economic and environmental issues that they face; and, I think that is slowly filtering back to the VC world. VC's know that capital needs to be deployed to meet the needs of the market."
At the heart of the AgSmarts platform is a proprietary algorithm. AgSmarts offers automation-control, analytics, wireless comm and Internet Protocol (IP)-enabled environment-sensing technologies that help Ag-sector producers, researchers and advisors make decisions about agronomic strategy and irrigation, while managing water, labor, energy and other costs.
Water-related technologies are drawing "acute interest" globally, Norman said, adding that AgSmarts has received a "totally unsolicited" approach by a private-sector Energy interest in Mexico; and, it is exploring an opportunity in Australia.
Against that backdrop, Norman said he's recently had conversations with potential Tennessee investors, as well as VC firms in Silicon Valley, New York City and Boston.
When asked, Norman said he's not ruling-out accepting a strategic minority investment, though the AgSmarts platform must remain partner-agnostic.
In December, Norman and Co-founder and CTO Clayton Plymill wrapped-up commitments for the company's $830K Seed raise, 75% of which came from individual investors, with the balance from VC firm Innova Memphis, said Norman.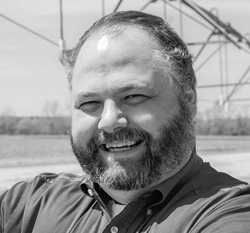 Clayton Plymill
Norman and Plymill each owns 50% of the company's equity, with all other investors having thus far participated via convertible-debt transactions, with the exception of a handful of advisors and others who hold restricted shares, Norman said. The picture would change in the course of the Series A, he acknowledged.
Innova Memphis may participate in the Series A, said Norman, who noted that Innova has previously spoken of its interest in creating an Ag-centric fund. More information on that Ag-fund initiative is here.
September-November is the likely period for AgSmarts' Series A raise, with timing driven largely by pressure to increase scale to serve nearly 20 current AgSmarts customers, as well as major customers deemed soon likely to sign, said Norman. It has at least 85 prospective customers in its pipeline, representing nearly $1MM in sales.
Meanwhile, although AgSmarts is steadfastly partner-agnostic, Norman said the company is working hard to raise awareness of its offerings among farmers, corporates, dealer networks, seed producers, consultants, retailers and others.
AgSmarts has five FTEs now, but that figure could double by year-end. Its hiring priorities are sales and engineering -- "It's all about product and customers, right now," Norman said.
To free-up Norman for more time on business development, AgSmarts may outsource CFO-level duties ahead of its capital raise, and sorting-through such options remains "very much an open process," he said.
The company's existing advisors include four attorneys with Baker Donelson Bearman Caldwell & Berkowitz: Emily Brackstone, Matt Heiter, Tony Alexander and Chris Sloan. It relies on local Debbie Hylander for accounting; and, it banks with First Tennessee.
AgSmarts asserts in its promotional materials that water resources are under pressure globally, and that Agriculture is associated with 70% of global freshwater withdrawals, of which up to 40% of which is wasted.
AgSmarts says its intelligent irrigation system offers "real-time hyper-local environmental data" (soil moisture, temperature, weather forecasts, soil type, topography, texture, environmental needs of particular crops, etc.). With such data, AgSmarts says it helps users "derive and execute a dynamic irrigation prescription to each part of the field, thereby maximizing yields and reducing operational expenses by up to 30%, while simultaneously minimizing irrigation run-off and water waste."
Asked about competitors, Norman cited only Huron, S.D.-based AgSense, which has targeted Precision Ag for about a decade; and, AquaSpy, founded in Australia, with U.S. headquarters in San Diego. AquaSpy's U.S. and international PE investors include Chicago-based Cultivian (a Sandbox affiliate).

VTC online research identified some other entrants, including Fresno-based OnFarm, which lists AgSense as a partner on its website. Norman expressed confidence that AgSmarts is currently well differentiated from all such groups.
Regarding consolidation in the sector and possible future strategic interest in AgSmarts, Norman said Monsanto's $930MM acquisition 18 months ago of then-seven-year-old Climate Corporation represents a strong signal.
AgSmarts has garnered recognition since its inception. The company was selected as a member of the NEXTFARM accelerator program conducted by the Northwest Tennessee Entrepreneur Center (NTEC), at Martin, in 2013-14; and, in Fall 2014, it was a finalist in the Global Action Platform venture challenge, held in Nashville. AgSmarts was also chosen for the LaunchTN master accelerator program -- The TENN -- for 2014-15.
Norman, his wife and their two children reside in Memphis. He was reared in Sumner County in Middle Tennessee, and he learned about farming from his grandfather and father.
Earlier in their careers, Norman and co-founder Plymill had overlapping tenure at Kele Inc., a HVAC automation company based in the Memphis area.
The CEO earned a bachelor's in international business at Rhodes College, and an MBA with concentration in international business at the University of Memphis.
Norman also did related work in Mexico and Cost Rica, according to his LinkedIn profile. VTC
Innova's parent, Memphis Bioworks Foundation, has a role in Gov. Bill Haslam's AgLaunch initiative, as reported earlier by VTC. And, Bioworks CEO Steve Bares, who is also chairman of Life Science Tennessee, is now lobbying the General Assembly for funding that could benefit a number of organizations.
There are potentially Federal programs to tap, as well -- including the U.S. Department of Agriculture's Made in Rural America program, which involves a $150MM RBIC fund managed by Advantage Capital Partners. However, VTC has not yet determined whether Innova Memphis or Memphis Bioworks has interest in the RBIC program.
If the aforementioned "Advantage Capital" sounds familiar, please note: In 2008-09, now-RBIC manager Advantage Capital joined forces with Enhanced Capital Partners (New York) to lobby the Tennessee General Assembly to create a capital formation program, known as CAPCO.
As it turned out, legislative debate of CAPCO instead led to legislation authorizing the TNInvestco capital formation program. Return to top of story. VTC
---