Updated June 28, 2017: Memphis High Ground reported Jordan has raised north of $1MM to date. May 11, 2016 - GraphStory filed for a $550K raise. Our 10/2014 story follows below-Ed.
GRAPH STORY, the Memphis startup that helps reduce the time techies must spend extracting value from databases, may soon be playing at your local cinema.
But first, there's the book. Yes, while Founder Greg Jordan was completing the SeedHatchery accelerator and raising $315K from Angels for the startup conceived only last May, he was also wrapping-up his first book, due out in December.
Okay, slowly move your finger off the Amazon button. For now: Succinctly titled Practical Neo4j , the work addresses, among other things, what developers at places like Facebook and Twitter are doing to cope with managing "complex highly connected data" that the rest of the world helps produce. Graph Story likes to refer to it as all about "graphs-as-a-service" (GaaS).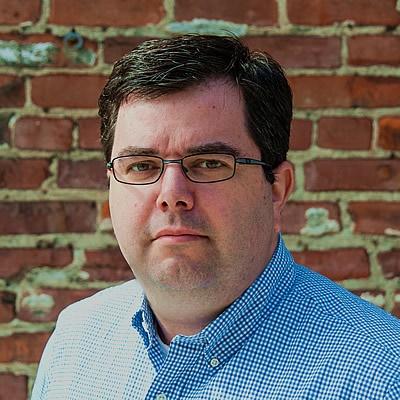 Founder Greg Jordan
You might be thinking another techie has simply gone down the rabbit hole.
Instead, the enthusiasm for graph-database sparked in Jordan and Jeremy Kendall -- the company's CTO, lead developer and first equity-holding employee -- has produced what seems like a clear map, from customer painpoint to early business traction, just three years after Jordan, himself, discovered the realm of graph databases.
Graph Story's story has attracted not only Angel support, but also conversations with VCs in Memphis, Nashville, Atlanta and "both coasts," said Jordan.
During SeedHatchery's Demo Day two months ago, Jordan spoke of a $3MM Seed-capital target, but he told VTC they'll review the matter while watching adoption trends, between now and year's-end. Its model is subscription, with a freemium-style entry point.
They're also factoring-in the surge in growth they recently experienced after adding some platform features, as well as how best to respond to interest in mobile Graph Story on the part of a corporation that participated in Chattanooga's recent "Reverse Pitch" event, which Jordan attended.
In addition to Jordan and Kendall, the company has four part-time contractors. It onboarded 200 users during a pre-launch phase and has passed through beta into full availability, with users now working on their own applications with Graph Story. The Graph Story API enables developers to shave great hunks off time spent developing data-graphing applications, by providing a foundation for users' app blueprints and a sort of library of coded objects, each representing a shortcut for the customer.
Jordan, a 41-year-old fifth-generation Memphis native, said he believes the company's only direct competitor is Heroku's Graphene add-on. San Francisco-based Heroku was reportedly bought by Salesforce in 2010.
The only other major player in the segment is Neo Technology, which is now essentially an ally of Graph Story, said Jordan, explaining that Graph Story runs atop Neo Technology's related offerings.
This week Graph Story is among sponsors of Neo Technology's GraphConnect conference in San Francisco, alongside Graphene and others.
One of the company's marketing priorities is to get its use-cases and plans in front of developers and small and medium-sized business decision-makers. So, it has plans for a series of presentation events in a half-dozen Southeastern cities.
It is Neo Technology CEO Emil Eifrem, whom Jordan met at Linux Foundation's ApacheCon in 2011, who can take credit for some of Jordan's excitement about GaaS. During ApacheCon, Bay Area-based, Swedish-born Eifrem sparked his interest in graph databases, putting Jordan on a path that soon included expert speaking engagements and other thought-leader roles. In addition, the organizer of ApacheCon introduced him to his now-publisher.
Regardless of its decision regarding capital, Jordan says the company knows its priorities. The iOS-ready company will soon focus on its interrelated Android and Java development goals. And, it looks to retain more talent to develop graph kits for Master Data Management (MDM), a major interest of large enterprises seeking to graph across dozens of apps, simultaneously; and, support for Geo-location data management, to speed-up decision-making that is often slowed by the lack of such tools.
And, it's always looking for talent who have PHP, Python, Ruby and other language skills that will be essential to building the libraries of tools that will allow Graph Story to adopt a nationwide stance, said Jordan. Because its platform has been developed with large scale a high priority, Jordan said it can handle suddenly needing to sign-up 1,000 users, he said.
Its board of directors includes, in addition to the founder, David Weinstein, who was its first investor and is CEO of NewHorizons training center in Memphis; and, independent board member Eric Mathews, CEO of Start Co., the parent of Seed Hatchery.

Other advisors include Charles Hurst, investor, formerly chief revenue office of FNC (Oxford MS); and, Chris Williams, managing partner of an advisory firm.
Jordan said Graph Story's retained advisors include attorneys with Baker Donelson Bearman Caldwell & Berkowitz, and it has received some accounting guidance from The Marston Group, as well as informally from his father, Donald Jordan, who has an extensive accounting background.
The young company banks with Orion Federal Credit Union, and it has been holding conversations with potential interactive agencies, to support its ad-promo launch.
Jordan's earlier experience included a stint with startup CrowdPlace, which still runs a social-media networking application; and, with 3RE, a computer-hardware distributor and remanufacturer. His LinkedIn is here.
Jordan's forthcoming book is being published by APRESS Media, a subsidiary of Springer Science+Business Media. VTC