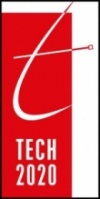 Update 11 Nov. 2014 1810 - Knoxville-based entrepreneur mentor and management consultant Kevin Kragenbrink was selected to serve six months as Interim Executive Director, according to a Tech2020 press release.-Ed.
TECHNOLOGY 2020, the Oak Ridge-based technology commercialization and venture development organization, is expected to select its Interim CEO tomorrow, according to Teri Brahams, a Tech2020 board member instrumental in selecting the interim.
The search for a CEO to succeed entrepreneur and former CEO John Morris will not be structured and launched until after the Interim CEO is in-place and able to participate in defining criteria for the search, said Brahams. VTC understands the Interim is likely to be in-place prior to Knoxville Startup Day, Nov. 20.
This story will be updated, as warranted. According to the Tech2020 website, since Morris' departure Sept. 30, the Interim post has been provisionally held by David Snider, who remains Tech2020's CFO and VP-business operations. Snider's career includes earliers financial and related posts with McGladrey, and with a variety of tech, energy, media and venture-development companies.
Consequently, no decision has yet been made regarding whether or not to use an executive search firm, Brahams told VTC. Brahams, herself, is a long-time workforce development, postsecondary education and business-development executive, according to her LinkedIn.
Meanwhile, 19-year-old Tech2020 has begun preparing to review its mission in-depth, against the backdrop of an energetically evolving East Tennessee entrepreneurial ecosystem, as previously reported.
At, or very near the heart of the matter for Tech2020 is the issue of how best, if at all, to advance its legacy technology transfer and commercialization mission, which it pursues in collaboration with Oak Ridge National Laboratory, the University of Tennessee and with the University of Tennessee Research Foundation (UTRF).
It is not yet clear what niche role Tech2020 will find worthwhile. Meanwhile, other institutions' tech-commercialization efforts continue to evolve. Related story here.
Meanwhile, the challenge of navigating the straits of both ORNL/DOE and UT regulations is widely recognized as testing the mettle of even veterans in the field, as witnessed by the recent decampment of Venture Incite (Solidus) from Oak Ridge.
Morris co-founded both Knoxville's Lighthouse Fund and, with entrepreneur Guille Cruze, ClearPath Ventures, as previously reported here. VTC