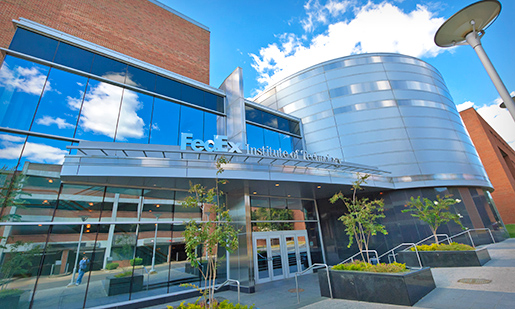 THE FEDEX Institute Technology within the University of Memphis (UM) seeks to spur innovation statewide by investigating emerging technologies, breakthrough concepts and related knowledge domains that produce gains that often give rise to entrepreneurial startups and fulfill pressing needs of mature industries in Tennessee and the surrounding region.
The Institute has been backed from its inception in 2003 by Memphis-based FedEx Corporation (FDX); and, it asserts on its website that it "is the central hub for efforts to maintain a cutting-edge innovative environment in the Mid-South region."
Such ambition was signaled unequivocally at the Institute's founding, when FedEx donated $5MM toward creation of the 95,000 sq. ft. facility.
The Institute supports the work of UM investigators and professionals with companies and other institutions statewide. That work span several sectors: Cybersecurity and Testing; Drones, Robotics and Navigation-enabled Systems; BioLogistics; and, Science and Health (informatics, sensors, neuron growth, drug discovery, patient monitoring and more). Its calls for research proposals are found here.
The Institute also supports the Institute for Intelligent Systems, which does research projects in Learning, Language and Artificial Intelligence, drawing on cognitive science, complex dynamic systems, neural networks, evolutionary modeling, massively parallel systems, biological systems and other fields.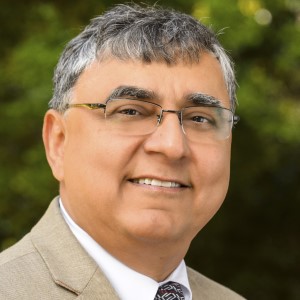 Jasbir Dhaliwal, PhD
The FedEx Institute is widely regarded as having gained fresh impetus since the 2014 appointment of President David Rudd PhD, the 2015 assignment of the Institute within the portfolio of Jasbir Dhaliwal PhD, who is its executive director, as well as the university's vice provost for academic affairs and dean of the graduate school, according to Cody Behles, the Institute's manager of Innovation and Research Support.
Dhaliwal conducted a yearlong strategic assessment of the Institute's mission and priorities, said Behles.
In addition to increased focus on the abovementioned research clusters, Dhaliwal has single-out individual initiatives, both larger and smaller, said Behles.
For example, Dhaliwal is the impetus behind the Institute's Aug. 4-5 "Blockchain Technology for Professionals Workshop."
Asked for comment, Dhaliwal told Venture Tennessee, "We see a future in blockchain technology startups that consult or provide services to key industries such as healthcare, finance, and logistics. It is important that we distangle blockchain technology, which has huge potential implications for numerous industries, from the initial development and use of the technology as the backbone of bitcoin."
The Blockchain event will survey Blockchain relevance to Healthcare, Retail, Energy, Financial Services and Trade, as well as in the context of business-process redesign. (For other VNC Blockchain coverage, please click here.)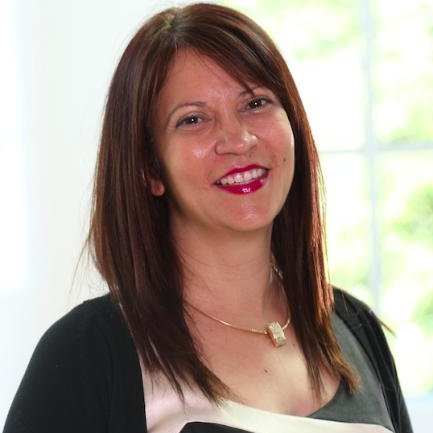 Dawn Jutla, PhD
The Blockchain event's primary presenter is Dawn Jutla PhD, Scotiabank Professor of Technology Entrepreneurship at Sobey School of Business at Saint Mary's University, Halifax, Nova Scotia. (Jutla also told Venture Tennessee she plans to attend the Oct. 3 Distributed:Health Blockchain event previously announced for Nashville.)
Behles also pointed-out the Institute's recent appointment of Hai Trieu as interim director for UM Technology Commercialization within the Institute. Trieu previously served as scientist, technical fellow and/or engineer with such companies as Medtronic, Wright Medical and Dow Corning Wright.
Information online indicates that as recently as 2014 FedEx was providing at least $1MM annually to support the Institute, and the Institute's website stresses its close working relationship with FedEx innovation units.
From the outset, FedEx personnel have worked directly with the Institute's research teams and other companies on "business standards and new technology," with tech workforce development also a shared objective. FedEx is not, however, the Institute's only corporate research partner.
In its opening announcement nearly 13 years ago, the University declared that through the Institute's operations, "the lines between industrial and university laboratories will be blurred, artists will venture into new media, and civil society will use data and communications to better serve our citizens."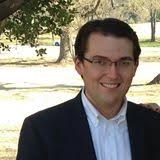 Cody Behles
Prior to recent changes, the Institute also oversaw the university's ties to the Crews Center for Entrepreneurship (2014 story here). Today, the Crews Center's primary relationship is with UM's Fogelman College of Business and Economics, said Behles.
Kevin Boggs PhD, a former life-sciences industry executive, led the Institute as its interim executive director, 2010-2015.
Earlier this year, Boggs became senior manager for licensing and commercialization within RTI International, in Research Triangle Park, N.C. VTC


.
---