Updated Dec. 18, 2014 - StartCo announced that eDivv has thus far raised a total $242K, including earlier debt, now converted.-Ed.
EDIVV INC., an online marketplace for trading unwanted or unused women's beauty products, is based in Memphis, but initially betting on New York City.
A recent graduate of Start Co.'s SeedHatchery accelerator in Memphis, eDivv is led by a couple who hail from New Jersey and who have in recent years lived and worked in New York City for a startup footwear company founded there by one of their fathers.
Co-founder and CEO Casey Casterline, 25, told VTC that eDivv has $125K commmitted toward its planned $500K capital raise. Proceeds from the raise will go largely toward improving revenue-generating features and platform development.
eDivv is likely to "maintain a presence" in Memphis for some time, largely because it values the trusted sounding-board represented by SeedHatchery mentors Mara Lewis and Eric Matthews, and others on whom they have recently relied, said Casterline.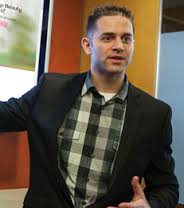 Jon Katz
She and Co-founder and President Jon Katz, her 27-year-old boyfriend, previously raised $85K, including StartCo's customary $15K investment and convertible debt from friends and family. Casterline and Katz hold equal shares of eDivv equity, and they have given options to some folks along the line, she said. The couple is dating, Casterline said, adding with laughter that startups don't seem to allow time for getting married.
The business targets Women, skewing toward the age 25-35 bracket, she said. Its early-stage website has been active about seven months, and had 1.5MM pageviews last month. More than 4,100 users to date have uploaded 55,000 products, and 17,000 products have actually changed hands. Traded products' sizes are about evenly divided between sample or subscription size and full-size product packages. Its demographics include pockets, such as stay-at-home Moms and teenagers.
Its user base has been grown almost entirely organically, thus far. However, it will soon ramp-up marketing. One tactic: More deals like the one they've done with online sensation "Makeup by Leina," a California-based makeup maven with extraordinary traffic via YouTube, Pintarest, Facebook, Twitter and other social media.
Its business model foresees revenue from advertising, from label-generation and perhaps other shipping services, and from sale or licensing of its data and analytics tools, said Casterline.
Any big surprises? "It's just interesting every day to see what people are willing to trade for -- and, first of all, how many products people have. It's crazy!" she said.

Competitors arguably include a a handful of blogs, but no fully commercialized barter-based businesses of which she is aware, she said. The blogs are Reddit Makeupexchange; Makeuptalk.com; sample-oriented ipsy.com; and, Pintarest, where consumers make photo boards on myriad topics.
Unfazed when asked about her vision of the owners' eventual exit from eDivv, Casterline promptly said that, give that it offers both a marketplace and analytics assets, it is "definitely a buyout candidate for any beauty brand, analytics [company] and marketplaces that want to dominate bartering and trading" in beauty products.
Casterline describes consumer eDivv users as "highly engaged," spending about 15 minutes on the site per visit, viewing 32 pages, and returning an average 20 times each month. New products are uploaded for trade, everyday. The company is not yet serving business users, though near-term it could support, for example, a retailer with excess product to offload, said the CEO.
Casterline said the co-founders chose SeedHatchery over Pittsburgh's AlphaLab, where she said eDivv was also accepted, because the Memphis program seemed more "hands-on," with strong mentor and staff ranks. Prior to those two acceptances, she had been applying to numerous accelerators in New York City and elsewhere, she said.
Casterline and Katz were both previously working for Ektio, an athletic shoeware startup created by his father, Barry Katz, M.D., a radiologist. Casterline said the experience of watching Ektio launch, raise capital and grow its business has been extremely valuable.
Advisors to eDivv have include Emily Brackstone, an attorney of-counsel via the Memphis office of Baker Donelson Bearman Caldwell & Berkowitz. Co-founder Katz, a CPA, does the books, and it banks with TD Bank, which operates only along the East Coast.
Casterline is a 2011 graduate of Northeastern University in Boston, where she earned a degree in criminal justice/psychology. Katz earned his MBA at the Stern School of Business, New York University; and, earned his bachelor's in accounting at Binghamton University.
eDivv was incorporated in Tennessee in April this year, as the SeedHatchery class began. It was originally registered in May 2013 in Bridgewater, New Jersey, and then became a Tennessee C-corp, said Casterline. VTC