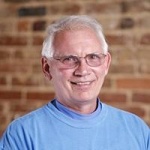 GIGTANK IV's sharper strategic focus seems likely to shift Chattanooga's role from Gigabit startup booster toward that of true Technology basecamp.
On Dec. 2, the governing board of the annual event's nonprofit host organization, The Company Lab, greenlighted the 2015 GigTank event, which is propelled each year by a broad Chattanooga community alliance, said Co.Lab Executive Director Mike Bradshaw.
This year's event will place greater emphasis on the needs of corporations that step forward with specific software and related Gig-dependent business requirements; and, GigTank will only actively recruit U.S.-based startup teams, said Bradshaw.
Corporations that are chosen to participate may describe specific market trials, technology projects or, in more general terms to cloak their business aims from competitors' eyes, Gig-dependent "challenges" they are facing, Bradshaw added.
GigTank's "crowd-sourcing" of entrepreneurial ideas for addressing those corporate requirements could produce a variety of benefits for participating startups -- from receiving corporate investment, mentoring or acquisition offers, to gaining immediate corporate customers for their goods and services, said Bradshaw.
Bradshaw explained that GigTank's steady evolution reflects increasing confidence on the part of the event's partners and sponsors that, even though Chattanooga's first-mover advantage as the nation's first Gigabit broadband-enabled city is fading, the timing remains perfect for Chattanooga to become a "test kitchen" for new products and services that can be offered now to a growing market of Gig-enabled customers.
Chattanooga's GigTank backers now believe that adoption of gigabit-driven business and product models has begun to move beyond "innovators," into the "early-adopters" segment of the innovation-adoption lifecycle. And, adoption rates will soon move into "majority" territory.
Thousands of startup-minded entrepreneurs nationwide are believed to have jumped off the fence, and are actively considering innovative offerings dependent on Gigabit broadband and on Gig-enabled markets, Bradshow said.
Not surprisingly, a review of its website suggests GigTank's existing sponsors include several that are positioned to lend a hand in that "test kitchen."
Among them: The Chattanooga-based Lamp Post Group's Waypaver portfolio company is already positioned as a startup innovation lab.
In addition, GigTank co-sponsor ng Connect oversees a "multi-industry ecosystem" through which it helps next-gen broadband innovators conduct market trials. ng Connect is a creation of Alcatel-Lucent, which also provided the technology that was key to Chattanooga EPB's 2010 launch of its Gigabit broadband network, which has drawn global attention.
Other perennial GigTank sponsors have included Alcatel-Lucent and EPB, themselves; plus: Mozilla, USIgnite, Lyndhurst Foundation, Benwood Foundation, Oak Ridge National Laboratory, University of Tennessee-Chattanooga, Stratasys, 3D Systems and LaunchTN, among others.
This year's sharper focus could result in an event of smaller scale, but with even heavier emphasis on participant engagement and readiness to pursue business opportunities, said Bradshaw.
While this summer's widely acclaimed GigTank III drew about 900 attendees of all types, in the interest of more deals done with Chattanooga-based startups, "I'd be happy if 300 [potential investors and other direct stakeholders] are in those seats, hanging on every word startups are saying," Bradshaw said.
Asked for the timeline for this year's GigTank cycle, Bradshaw said that in January GigTank will open the window for applications from both companies with Gig-dependent requirements and from would-be startup teams.
The applications deadline will be in late March, with teams notified of acceptance by early April.
GigTank IV is likely to commence on Monday, May 18th, with teams arriving town the weekend before. GigTank Demo Day will probably be Tuesday, July 28, Bradshaw said.
3D Manufacturing got the heaviest weight this year during GigTank Demo Day, which featured 11 startups. In 2015, startups admitted to GigTank and spotlighted at Demo Day are likely to represent more diverse and more intensely Gig-dependent industries, Bradshaw confirmed.
The Gig-dependent 3D-M sector remains very much eligible for GigTank, and is naturally recognized as a major component in the Internet of Things (IoT) environment, said Bradshaw.
In fact, the "good energy" recently stirred-up in Chattanooga around 3D-M and advanced manfacturing, generally, has led to serious discussion of the possibility of establishing in the city what might be described as a freestanding "advanced manufacturing applications center," Bradshaw said.
Logic would suggest, said Bradshaw, that Chattanooga's expanding vision of its role in Gig-driven Internet industries and in the advanced-manufacturing sector could lead spinning-out both initiatives from under The Company Lab umbrella. Co.Lab doesn't aim to "own" such initiatives forever, and serves the community partly by experimenting with new opportunities, said Bradshaw.
Discussion is actively underway regarding how best to institutionalize and steadily strengthen's Chattanooga's infrastructure and programmatic offerings in these two overlapping areas; and, possible institutional venues for such permanent programs are also being considered. Co.Lab and its allies are also exploring potential synergies between the two programs and the City of Chattanooga's planned Innovation District, as well as with the Chattanooga Maker Faire.
For more of the origins of GigTank, please see earlier coverage here. VTC