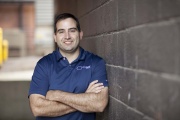 WILL OVERSTREET, the 32-year-old co-founder of Voices Heard Media, pondered the question of what he'd do differently if he were launching his startup, all over again.
"I would have learned a lot more," he said. Then, still pondering, he added, "I would have worked a lot more with customers, early on."
Maybe so, but Overstreet must have been doing a lot right: He was recently named Entrepreneur of the Year by the Oak Ridge-based Tennessee Valley Technology Council, as part of the group's annual Navigator Awards program.
Now, 5-year-old VoicesHeard is "ramping-up channel sales," said Overstreet, adding that he wished he'd started that push, sooner. "Leveraging other people's sales forces to sell yourself" is a powerful tactic, he added. (In November, VoicesHeard announced adding Walter Hirsekorn as director of channel sales.)
Nonetheless, all is well. The company is on-track to reach profitability later this year and annual revenue is north of $1MM, with 16 employees aboard, said Overstreet.
In VNC interviews nearly two years ago, other executives then with the firm expressed belief the company could reach $30MM annual revenue by 2013. As previously reported by VNC, the startup's A-round brought in $1.5MM from Angels, and management previously spoke of eventually pursuing a $3MM-$5MM B round.
Further outside capital has, in fact, been raised since that report, Overstreet acknowledged, but he declined to say exactly how much, noting only that total capital raised since inception is "several million." (In July 2011, VNC reported that TNInvestco Tennessee Community ventures had invested at least $150,000.)
VoicesHeard's technology enables all news, information and entertainment media to engage members of even the most enormous audiences with celebrities, athletes, newsmakers and others. Its oft-cited clients include the Huffington Post, HGTV and Fox Sports, according to its site. The company has previously touted as customers ESPN, Gannett, Scripps and ABC, among others. Its media products logged more than 53 million unique visits in 2011, according to its website.
Expansion of its product suite continues, also: The company announced last week that it has launched a social-media analytics tool that enables customers to determine their return on investment (ROI).
Overstreet, who in earlier years was an Atlanta Falcon linebacker and University of Tennessee Volunteers team captain, notes that the rigors of startup life -- "they can take your health down a notch," he said -- can be alleviated somewhat by learning more on the front-end.
Of course, entrepreneurship is tough work, no matter what: Acknowledging his company's success and the kudos! heaped upon him and co-founder Chris van Beke, Overstreet nonetheless said of Voices Heard's success thus far, "it wasn't handed to us, we've had to fight for everything that we've got."
Van Beke remains a director of the company, but recently stepped out of his role as the company's COO to coordinate strategic development and acquisitions at MK Technologies Corp., a diversified Knoxville company led by immediate-past Tech2020 chairman Mike Carroll.
Overstreet and his wife are expecting their first child this spring. He is a native of Jackson, Miss., and earned his MBA at UT in 2006 and his bachelor's in finance at UT, in 2001. VNC