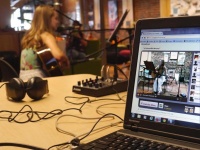 STREET JELLY knew it had a sticky Music brand that brings a smile, even before it got to the Knoxville Entrepreneur Center (KEC) MediaWorks Demo Day this summer, said Frank Podlaha, its CEO and founder.
Now, with a $625K Seed capital raise underway, Podlaha said he's found "the toughest thing to get across" to potential investors -- now that StreetJelly has moved past its "minimum viable product" -- is that Street Jelly Media has a roadmap that includes building further revenue products and services atop and alongside its live-performance streaming and interactive crowd-gathering platform.
What's online now, robust as the community already seems, "is just our first cut," said Podlaha.
Immediately, the targeted Seed raise will support marketing, promotion and its vital mobile-app development, with the app likely to be completed by 1Q 2015, he said.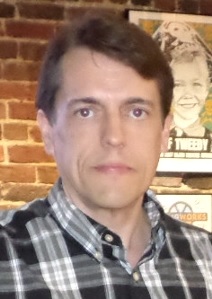 Frank Podlaha
Podlaha confirmed that he is scheduled to speak in Nashville during the Music & Tech Futures Summit, Dec. 10-11, where he's to address marketing musicians in the video-streaming age. Conference organizers told VTC today the event's venue announcement is pending.
At first glance, he explained, some potential investors think StreetJelly must be planning simply to grow its artist-fan base. In fact, the company has clear plans for additional markets, products, services and revenue.
No surprise that investor-shoppers tend to fixate on its current offering: After all, StreetJelly, which is Web-only pending the mobile-app development, has more than 1,800 street-musician groups and individual artists signed-up, with about 300 of those adopters now generating crowdfunded tips. Fans early-on began calling themselves "JellyFish."
Since August, it has gained about 300 performers. Many within the StreetJelly artist community are not full-time buskers, but are also music teachers and music-shop owners, he noted.
Thus far, more than 500 fans have bought its electronic tip-tokens in quantity, said Podlaha. Tokens are offered in batches of 25 to 1,000 tokens at $7.95 to $199.95 per batch, according to its website. Up to 80% of each tip goes to the targeted musicians, via PayPal, with deals varying somewhat by artist.
All music is live and viewing, itself, is free to all. Fans and performers may chat live.
This past weekend, StreetJelly did a live "Street Jam" event on Knoxville's Market Square, hosted and supported by the KEC. Fans who've dubbed themselves "Jellyfish" were online and on-hand for the nine-act event, the latest in a series. Musicians and fans alike showed-up from "Kansas to Florida," he said.
Though declining to provide deep detail at this time, Podlaha said future initiatives are likely to include stepped-up merchandising programs; an "automated" function for artist-following fans (not like Spotify or Pandora subscription models); and, among other things, a longer-term scenario for allowing its technology platform to be used by others to stream live entertainment ad hoc, from commercial venues.
Much longer term, at least one vertical other than Music is likely to get a closer look, he told VTC at one point in a series of interviews. Currently, StreetJelly fan-users tend to be older than 35, roughly evenly split male-female. Among interesting subsets, Podlaha said, is parents who are home-schooling children.
Since MediaWorks on Aug. 5, Podlaha, a 45-year-old Cloud-based software and process architect who served as a U.S. Army AH-1Cobra helicopter crew chief -- including sorties in Operation Desert Storm -- has raised nearly $50K in equity investment from Angels and family. He's also personally invested roughly $50K. He holds the majority of StreetJelly stock, and is supported in the startup by his wife and several trusted volunteers. The company currently has no paid employees.
Roughly 85% of its artist community is drawn from the U.S., with the balance from Canada (10% of the total), the UK, Netherlands, South Africa and other nations, he told VTC.
The Street Jelly site has thus far attracted more than 76,000 users, with nearly 350,000 visits, generating 1.4m hits, said Podlaha.

Mike Carroll
Knoxville serial entrepreneur Mike Carroll, who was founding-CEO of the KEC (where he was succeeded by CEO Jim Biggs), told VTC, "StreetJelly offers totally unique and compelling products and services at exactly the right time. We serve a market that is long overdue to be democratized. The value proposition at StreetJelly puts power directly in the hands of consumers by giving them real time and instant purchasing authority and pricing control."
In addition to Carroll, Podlaha is advised by attorney David Moorehous of Moorehous Legal Group; his accounting is handled by Glen Porter of Padgett Business Services; and, he banks with Highlands Union Bank.
Podlaha, by the way, estimated that the work he's personally done on StreetJelly site, analytics and other matters would've cost a non-techie more than $200K, if contracted-out. He did turn to TEKSystems, a global IT staffing firm, for some assistance, he said.
A Connecticut native and a self-avowed "science-math geek," Podlaha's software business is seven-year-old Carp Data Service.
He he began learning programming at age 11, and got personal access to a computer by urging his parents to buy a Timex-Sinclair home computer, in the early Eighties. His LinkedIn profile is here. VTC