THE COMPANY LAB (CoLab) is likely to speed 30 or more startups toward scaleup each year, thanks to its new three-cycle annual operating mode for Chattanooga's newly interwoven CoLab and GigTank365 accelerator programs.
After a pilot cycle that is to begin this week with a total six startups in the two accelerators, CoLab plans to move full-bore into its model, running a series of three cohorts of each CoLab Accelerator and GigTank365 accelerator during the ensuing 12 months.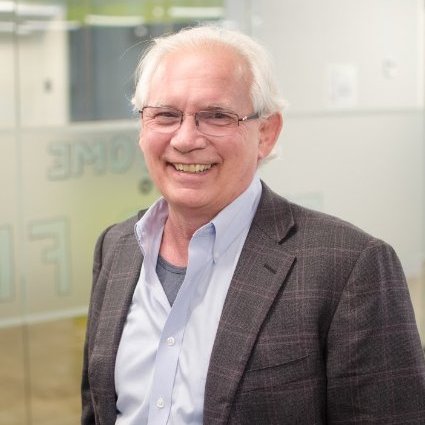 Mike Bradshaw
Asked about the sharply expanded breadth of CoLab's efforts, CoLab Executive Director Mike Bradshaw told Venture Tennessee, "It's ambitious. That's why we're viewing the Spring cohort as a prototype of the new program."
In an earlier statement, Bradshaw noted, "Right now, GigTank is one of the only accelerators in the U.S. where startups can realistically develop and test applications that leverage gigabit networks. We didn't want to confine those opportunities to just one season a year -- they're too important."
In addition, he told VNC, the congruence of the two accelerator programs, and the sharing of resources, give CoLab an opportunity not only to serve the startups' entrepreneurs year-round, but also creates opportunities for cross-pollination and peer support, fostering a large new element of Chattanooga's entrepreneurial community.
While each CoLab Accelerator cohort is sector-agnostic, GigTank365 teams are weighted toward Seed-stage startups in 3D Printing, Software-Defined Networks (SDN) and Healthcare sectors.
Bradshaw said community support for the expanded effort is "amazing." Offering as an example the response he's experienced from the Healthcare sector, he said, in part, "The healthcare folks...the Docs, hospitals, clinical practices, have all given us reason for optimism. It's still a deep throw, and we know it. We wouldn't want it any other way."
Asked how SDN got such priority in the solicitation of startups, Bradshaw explained, in part, that while raw bandwidth of the capacity Chattanooga now offers is essential in Internet 2.0, developers deploying technologies also need to be able to specify transmission protocols and establish connections that are "reliable, stable and secure everytime."
The Spring cycle, which begins this week, is being populated with "homegrown" startups and represents a pilot of the new twinned accelerator model, ending May 31.
The two startups in the GigTank365 pilot beginning this week are:
►ProviderLinc (Telehealth) James Cowan.
►Collider (3D Printing) Graham Bredemeyer
The four startups in the sector-agnostic CoLab Accelerator, with what VNC believes are their industries:
► undaground (hyperlocal Music streaming app) David Castaneda, Cole Sweeton
► CPR Lifewrap (Medical) Felicia Jackson
► Joy Krauss (Content) brand TBA
► Change your $tory (Coaching) Noelle Shwantes
Next: Applications for the summer 2016 cycle for GigTank 365 are due March 31, with the program running May 16 through Aug. 15, and with free housing available during portions of that span, with virtual participation during some portions.
Startups from all six cohorts conducted in 2016 will present Oct. 4, 2016, during the annual Chattanooga Startup Week.
The best-qualified GigTank candidates will include teams with business models that employ big-data analytics, streaming and 4K video, sensor networks, connected devices, artificial intelligence and machine-to-machine communications, as well as other advanced technologies, CoLab said in a earlier release.
GigTank365 will also consider other tech-enabled businesses that are strongly synergistic with its three key sectors.
The dual-track programs share pools of mentors and other resources as warranted, and they operate in the Edney Innovation Center, in the city's Innovation District. CoLab Accelerator and GigTank365 are to run in tandem cohorts, in three cycles in each 12-month period.
The timeline for CoLab's third 2016 cycle in the fall has not yet been announced. This story will be updated, as warranted.
Chattanooga's accelerator ambitions have steadily expanded since its smartgrid-driven gigabit Internet infrastructure went operational in 2010, drawing wide attention to the city and its entrepreneurial goals.
Moreover, in September 2015, US Ignite announced that Chattanooga had become one of 15 cities chosen to participate in a National Science Foundation grant-funded network of cities that would help "build a living lab of testbeds for smart gigabit applications..."
Chattanooga and the smart-gigabit entrepreneurs it summons throughout the year intend to seek an influential role within that testbed network, by helping entrepreneurs get their competitive solutions to market.
CoLab said in a Feb. 10 press release that GigTank365's Healthcare track will be led by Chattanooga-based One to One Personal Physician Network, which will provide clinical and industry expertise for entrepreneurs looking to improve healthcare delivery to patients.
GigTank began in 2012 as a project backed by a broad community alliance, including CoLab, but with The Lamp Post Group one of the organizational mainstays.
CoLab was founded in 2008 and was known until 2012 as CreateHere, it original name. VTC
Last edited 9:38 a.m. 23 February 2016.
.
---