HEADLINING a conference panel just ahead of the cocktail hour is a daunting assignment.
But, making the best of it last week were David Millhorn, Ph.D., CEO of the University of Tennessee Research Foundation and EVP of UT, itself; and, Jeffrey Balser, M.D., Ph.D., dean of the Vanderbilt University School of Medicine and VU vice chancellor for Health Affairs.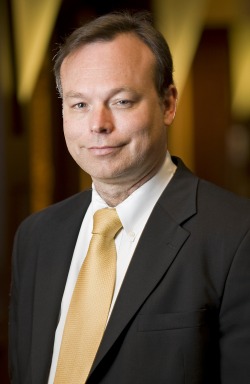 Jeffrey Balser
Perhaps least predictable during the program was Balser's call for more marketing and promotion of Tennessee's Life Sciences sector; greater State industrial recruitment emphasis on targeting Pharma, analytics and other companies that might be lured to Tennessee to build the life-sciences base here; and, the importance of finding ways to improve access to capital for life-sciences companies that may otherwise die in the fabled "Valley of Death" between proof of concept and market entry.
The two-man panel was kicking-off the annual meeting of nonprofit LifeScience Tennessee (LSTN) in Nashville last week. Their segment was presided over by LST Chairman Sam Lynch, completing his last full day on duty, before handing the reins of the biotech, pharma and medical devices-oriented group to in-coming Chairman Steve Bares, the CEO of Memphis Bioworks Foundation.
It was a rare sighting of such senior UT-VU officials in public, in such proximity, playing for the same team (LSTN), and apparently aiming for the same goals -- rallying support for tech transfer, commercialization and creating more jobs for their graduates, among them.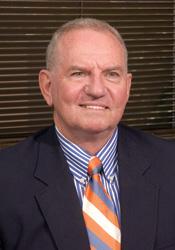 David Millhorn
Prima facie, Millhorn's and Balser's remarks seemed to represent at least philosophical support for LSTN proposals that were later to be formally released during the conference.
As previously reported by VTC, LSTN last week called on the State of Tennessee for: A $40MM grants-matching initiative for tech transfer-commercialization; a $40MM Venture Capital-matching program modeled after the State's INCITE matching program; and, a $5MM program to support increased awareness of Tennessee opportunities and resources, apparently by funding the efforts of such groups as LSTN and the state's nine regional accelerators.
Balser made clear that in addition to the public good accompanying commercialization of breakthrough technologies, he believes it is important to create or recruit companies and jobs that will help keep VU and UT lifescience and related graduates in the state, while also improving the odds that the universities' technologies will be licensed to instate companies, rather than to companies in, e.g., Boston or Silicon Valley.
Balser said, in part, "we have the workforce" of educated scientists, technologists and others, and needed skills and talent are "readily available." Tennessee now needs "a concerted effort to bring more of this industry segment to Tennessee," and Vanderbilt would find "attractive" new initiatives with that in mind.
Recruiting existing companies to Tennessee would help accelerate development of Tennessee's biotech infrastructure, Balser stressed.
At one point, moderator Lynch pointed-out half-jokingly that Tennessee may be better know for its whiskey than for its lifesciences, and asked how perceptions could be changed.
Balser responded, "Advertising works," and went on to explain that marketing, social media and all other techniques must be employed to raise awareness of Tennessee assets. "You have to get out there and go after it," Balser added.
In a wide-ranging followup interview, Millhorn told VTC that improvements in tech transfer and commercialization have been underway in recent years at UT and within its strategic ally, Oak Ridge National Laboratory; and, that fruits of those efforts will eventually be seen. He acknowledged, as he has previously, that navigating ORNL commercialization channels is "absolutely" difficult, but getting better.
Millhorn also stressed that he recognizes that UT and Tennessee both have opportunities to strengthen their brand recognition as centers of innovation.
The UTRF CEO noted that, among other initiatives, he is currently recruiting a new UTRF marketing coordinator, who will support branding, social media and communications efforts for both UTRF and for the Memphis-based University of Tennessee Health Sciences Center. Other staff increases in recent years have produced a substantial increase in intellectual property disclosures, he noted.
Together and-or individually during the panel, Balser and Millhorn highlighted a number of potential targets for stepped-up effort by all parties.
Topics at least touched lightly upon included pharmaceuticals (vaccines, especially), biofuels, personalized medicine, informatics, biostatistics, analytics and others.
At one point, Balser stressed that data is needed showing the economic impact of innovations (DNA testing, for example), with projections of returns that would be realized by payers providing healthcare insurance benefits. Developing that sort of data does not rely upon supercomputing, he noted at one point.
Both men expressed recognition of the potential value of increased collaboration between UT and VU, though each spoke with what seemed an abundance of caution. Balser acknowledged "lots of potential for renewing" discussions of shared interest among institutions, for example.
Millhorn confirmed that Gov. Bill Haslam has several times in previous years convened public and private university officials to discuss collaboration and related matters.
Millhorn said he did not recall such a meeting this year, but noted that the Governor prefers to give such issues a push, and then rely on the parties to move the agenda ahead.
Asked about the prospects for heightened collaboration, Millhorn told VTC that "perhaps in the near future" there will be further such discussions, though there is no "concerted effort" focused on particular objectives, now.
Among contributing factors, he said, is the fact that universities simultaneously have substantial opportunities for creating more partnerships with companies in the private sector, among which lies the majority of the nation's funding for research. "Breaking the code" that unlocks those relationships represents a major opportunity, said Millhorn.
Another reason is that the universities have plenty on their plates, already. UT, for example, has great hopes for its commercialization of biofuels and other biomaterials, said Millhorn. Asked about a related capital raise being undertaken by an affiliated private company, Genera Energy, Millhorn said he believes that "we're moving along and progress is being made on that front," and he promised an update, as warranted.
Given that such relationships must be meaningful and in-keeping with each university's mission, plus the financial stresses that universities are experiencing, Millhorn noted that "you can't force these things, they have to be natural." VTC