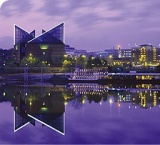 'CHATTANOOGA Choo Choo' and See Rock City will drift into the background this summer, surrendering the city's branding spotlight to Gig City, an initiative spawned by a broad alliance of boosters, techies and investors.
This summer, the Gig City project aims to attract geek talent, launch new ventures and attract seed capital from throughout Tennessee and the Mid-South. The effort leverages Chattanooga's 1 Gigabit per-second fiber-optic network, launched three years ago by the Electric Power Board of Chattanooga (EPB).
The deadline for participation is March 1. Results will be unveiled for judges and investors on Aug. 9.
Gig City has north of $470,000 in hard costs budgeted, thus far. With sponsors still being recruited, the value of its prizes, its operational outlays and other numbers could rise, said Gig City Managing Director John Wilson. Wilson, 57, was named to his Gig City post about four months ago.
Chattanooga entrepreneurs and civic leaders are moving aggressively to make the most of the community's status as the Western Hemisphere's first and only city, thus far, that possesses citywide 1-Gig infrastructure. (The Google Fiber-driven project in Kansas City is likely to be the next 1-Gig city after Chattanooga. Kansas City tech entrepreneurs recently competed in a Gigabit Challenge.)
The campaign that is now known as Gig City has been planned for about a year; and, it got its first dollars from Alcatel-Lucent ($100K) and The Lamp Post Group, a Chattanooga incubator, said Wilson. Afterward, the maintstay local Lyndhurst Foundation kicked-in additional funding; then, the city's allies won one of nine $250,000 State Economic and Community Development INCITE grants, which were awarded last fall.
Gig City aims to focus competitors' energies on seven announced sector targets: Advanced manufacturing - Cloud Computing - Digital Media - Education - Energy - Healthcare - Public Safety and Emergency Response.
The most attractive ideas will be "disruptive" and will, of course, take advantage of the 1-Gig system, Wilson explained. Participating teams and students will be expected to develop applications that Gig City sponsors hope will subsequently prove "sticky" enough to lead their creators to test and build-out their ventures in Chattanooga.
Gig City is being heavily promoted during StartupRIOT in Atlanta this week; and, in about three weeks a GigCity squad will hit South By Southwest in Austin, with special sanction to continue recruiting entrants, there. In January a Gig City team carried its banner to the International Consumer Electronics Show (CES) in Las Vegas. Before it's all over, "you can expect Chattanooga to reach out Austin, Knoxville, New York City, Silicon Valley, Atlanta, D.C., Seattle" and other cities, said Wilson.
Deadline March 1: Nine days from now is the formal closing of applications from techie's and venture teams. Students and Entrepreneurs will Demo or Pitch their products and business proposals on Aug. 9.
"We are extremely encouraged" by Geeks' responses to Gig City thus far, Wilson told VNC. By this past weekend, a mixture of more than 30 entrepreneurs and students had applied, with a further surge of registrants expected right before the March 1 deadline, Wilson said. Here are the application pathways:
► The Geek Hunt — This is the Gig City initiative by which those who identify Geeks who, in turn, end-up actually participating in this summer's Geek Tank accelerator are paid a $1,000 bounty.
► The Geek Tank Accelerator, Entrepreneurs track, is managed by the city's Company Lab, led by its Executive Entrepreneur Charlie Brock (who is also co-founder of Chattanooga Renaissance Fund) and staff chief Sheldon Grizzle. Each of Geek Tank's 10 entrepreneurial teams will compete for $100,000 top-prize money.
► The Geek Tank Incubator, Student track, is being run by The Lamp Post Group, led by Jack Studer. On this track, 10 to 15 students will individually vie for a $50,000 cash prize and the right to compete for venture funding alongside the entrepreneurial companies.
► Geek Move — Gig City simultaneously plans to offer 10 Geeks (programmers) who currently live more than 50 miles from Chattanooga financial assistance toward buying a home in Chattanooga, in return for a promise to participate in the city's tech sector. Potential employers are simultaneously being invited to post jobs that inbound Geeks could fill.
Asked whether Gig City results are sufficient, thus far, to cause the group to begin planning to replicate the event in 2013, Wilson said only that that's something the community-as-a-whole will have to consider.
Wilson explained that he reports to a Gig City steering committee that includes organizers, funders, sponsors and others. The Chattanooga Chamber of Commerce is handling Gig City financial administration. Wilson's current management contract term ends soon after the 2012 event culminates in August, he said.
Gig City builds upon a number of longer-running initiatives, and has been given added impetus from a broad range of leaders and experts, said Wilson. He singled-out for thanks Michael Burcham, CEO of both StartupTN and Nashville Entrepreneur Center; and, Vic Gatto, of Solidus Co. and Jumpstart Foundry.
Gig Tank judges and mentors, may soon number as many as 20, said Wilson; announced thus far on the program's website are: Burcham; Sid Chambless (Nashville Capital Network); Jason Collins (Alcatel-Lucent); Paul Conley (Paladin Capital); David Cummings (Pardot, SalesLoft); Steve Dauphin (Murphee Venture Partners); Jay Faires (JFE, Mammoth Records); Colin Rainey (IDEO); Glen Ricart (US Ignite); Jonathan Taplin (Annenberg Innovation Lab); and, Mike Tatum (Whiskey Media).
The EPB fiber-optic business is in its third year of operations. With 35,000 subscribers, it seems likely to exceed its subscription, revenue and profitability targets, according to a report Saturday by the Times Free Press.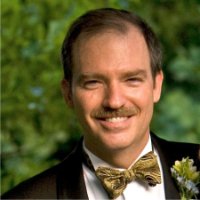 John Wilson
Wilson is a serial entrepreneur and he remains managing member of Atlanta-based First Ignition, a year-old consultancy serving startups. He has had business relationships in Chattanooga for many years, he told VNC. Nearly a year ago, a former Wilson business associate connected him with Brock and others who were considering ways to heighten awareness of the city's 1-Gig advantage. A few months later, when Gig City was looking to add managerial talent for the last mile of its 2012 push, he agreed to take his current role.
Wilson co-founded NanoLumens, which produced the world's first flexible video displays; and, he was the founding CEO of the Southern Coalition for Advanced Transportation. He earned his bachelor's in chemistry at Emory University in 1975.
For more details on Wilson's career, please see his Linkedin page and check-out The Times Free Press for a story on Wilson's entrepreneurial beginnings. VNC